Our offer is adapted to
the individual needs of our clients.
Our offer is adapted to
the individual needs of our clients.
Our offer is adapted to
the individual needs of our clients.
Our offer is adapted to
the individual needs of our clients.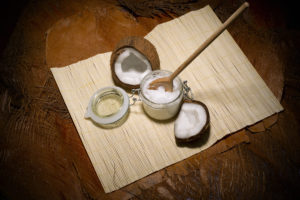 Raw coconut oil VIRGIN – We offer you first-quality Virgin coconut oil signed with an organic certificate. Virgin coconut oil is an extract from freshly harvested coconuts in coconut gardens in Sri Lanka. Obtained from the pulp of fresh coconut palm fruit, it is cold pressed, which is why it retains valuable nutrients and fats. It is a natural oil, without any treatment, produced without the addition of chemicals, not bleached or deodorized. It has a typical coconut smell.
Oil with a high content of lauric acid – an extremely valuable nutrient for our body, thanks to its antibacterial, antiviral and antifungal properties.
Coconut oil is widely used in the food, chemical and cosmetics industries:
excellent fat for frying, it is well absorbed in dishes (meat, vegetables and other),
excellent for frying pancakes,
replaces butter as a bread spread
baking ingredient (instead of butter),
as a clean body oil or massage oil,
in cosmetics, helpful especially for dry and cracking skin,
intended for mature, sun-damaged skin,
a soothing agent after tanning, beautifully evens skin tone,
as a hair care preparation, perfectly nourishes hair,
it has a cooling and calming effect,
ideal for aromatherapy,
candle product,
as a bath oil, perfectly moisturizing the skin,
inhibits the appearance of patches on the skin,
supports wound healing, soothes skin diseases
helps with psoriasis and the fight against dandruff,
strengthens the roots and prevents hair loss.
The oil consistency at a temperature below 25 ° C is constant, homogeneous, the oil resembles curdled white fat. In liquid form, the oil is crystal clear. Coconut oil is a non-drying oil, temperature changes and consistency changes do not adversely affect its quality.
Origin: Sri Lanka
The ZADORUS company was founded in January 2007.
We are specialists in raw materials such as soy, palm, rapeseed, rice waxes and coconut oils. These products are traded both on the domestic and foreign markets.
We have many years of experience in the industry.
We use the experience and business contacts with reputable suppliers and customers every day to meet the expectations of our clients, and their satisfaction is our best advertisement.